SMALL CRUISE SHIP CONCEPT YACHT
Le navire SCSC a été conçu pour répondre aux attentes d'une nouvelle clientèle, désireuse de vivre la croisière différemment des offres disponibles aujourd'hui.
Un soin particulier sera apporté à la qualité de la prestation hôtelière 5* sur ce navire aux dimensions humaines.
La construction se rapprochera des standards du YACHTING et hissera de manière significative la qualité du navire tout en bénéficiant de rationalisation des process de construction pour réduire les coûts.
Sa conception permettra l'accès à des mouillages jusqu'à lors inaccessible aux navires de croisières.
Deux pont seront consacrés aux espaces privatifs; chaque cabine disposera de son balcon vue mer.
Le dernier pont proposera un restaurant gastronomique et une vision panoramique, et offrira une vision à ce jour inédite sur les paysages et les ciels les plus inattendus.
The SCSC was designed to meet the expectations of a new clientele, eager to experience the cruise differently from the offers available today. Particular care will be taken to the quality of the 5 * hotel services on this ship of human dimensions. The construction will be close to the standards of YACHTING and will significantly raise the quality of the ship while benefiting from rationalization of the construction processes to reduce costs. Its design will allow access to anchorages previously inaccessible to cruise ships. Two bridges will be dedicated to private spaces;each cabin will have its balcony with sea view. The final bridge will feature a gourmet restaurant and a panoramic view, and will offer a vision to this day of the most unexpected landscapes and skies.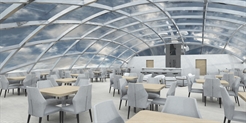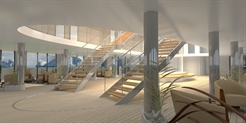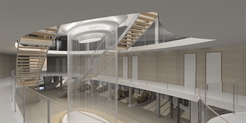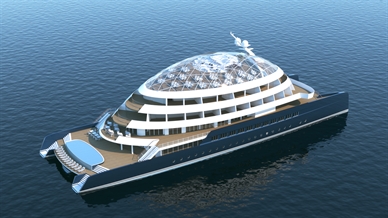 CARACTÉRISTIQUES GÉNÉRALES - TECHINCAL SPECIFICATIONS :
Longueur hors tout (LOA) : 70m
Bau maximum (BEAM) : 24 m
Tirant d'eau (DRAUGHT) : 2,85 m
Déplacement (DISPLACEMENT): 1 495 t
80 Passagers (GUEST) — 40 Euipage (CREW)